Protect you and your Workers using the most comprehensive, yet efficient online compliant SWMS platform in Australia.

Minus the paperwork headache !
Watch the Video Now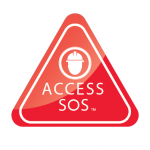 WHO: All Construction Companies and Tradies on the job where high risks are involved!
Builders, Electricians, Concreters, Carpenters, and more.
Maintenance Service Technicians & Tradies
Specialty Installers – Solar, Air Conditioning, HVAC Testing & Commissioning, Filter-Bag Cleaning Power Stations.
WHAT: Paperless Safety Delivery Service supported by training provided online in real-time
WHERE: Across every and any work sites in Australia
WHY:
Stay Safe
Stay compliant
Avoid on the spot fines of up to $50,ooo.
Don't get caught out!
Professional Indemnity Insurance is provided for advice given by ACCESS SOS on Work Health and Safety matters under the Work Health and Safety Act 2011 (Cth) and its Safe Work Australia Regulations & Codes of Practice, as an Australian based Safety Advisory Service.